Home
Talk

2
47pages on
this wiki
Welcome to the Eragon Fanfiction Wiki!
The wiki about fanon relating to the Inheritance Series that
anyone can edit
. We are currently working on
47 articles
pages since December 27, 2011. If you don't have an account yet, you can easily sign up
here
. Before you start writing, you are advised to read the Rules and Regulations before continuing. Your admins are
Alittlebitofcyanide
,
Wyvern Rex
, and
Jazzy
. If you would like to read about the whimsical and humorous beginnings the wiki, click
here
.
Rules & Regulations
(NOTE: These apply to anything you do around the wiki, which also includes chat.)
No Trolling. This is one of the most basic rules. Any form of trolling during the first offense gets you banned for one-week, and another gets you banned for life.
No plagiarism.
No editing of other users' pages without their permission. (this includes adding unnecessary categories to their page)
No Spamming. First offense gets you insta-banned.
Griping and whining is frowned upon. Relax.
No vandalism. All offenders get banned forever.
No flaming.
Get Started Now!
If you are fairly familiar with how a wiki works and have already read the rules and regulations, you can start writing below!
Still not sure what to do?
Check out the forums for some help!
You can message our Admins or any user by simply going to their profile and clicking on Message Wall.
Check out the community portal to see what the community is working on.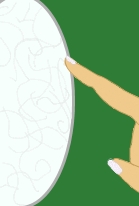 Sarabelle is the spoiled middle child of Roran and Katrina Stronghammer. After the war with Galbatorix, her family lives a rich and lofty lifestyle in New Carvahall. For Sarabelle, life is good- she lives like a princess and the handsome Vanir, an elven ambassasador, is coming to visit soon.
"But when a dragon hatches for her, Sarabelle's life and dreams are shattered. She is whisked away to the elven forest and meets Rider and Queen of the Elves Arya, who seems to have a special interest in her, but this only creates more outrage and controversy about her being a Rider than ever before.
With the blood ties and attention that once made her strong now holding her back, Sarabelle must fight to prove that her hands are now meant for wielding a sword and shield, and for protecting those so dear." Awakening is also a part of the Rebirth Series, which you can see here.
News

April 24, 2012: If you have noticed, we (the admins) have sorta given the main page a more decent look. If you have any comments and suggestions on how the main page should look, you can message either one of your admins! For those who are reading, thanks again for going to this site! Alittlebitof... CYANIDE 03:07, April 24, 2012 (UTC)
April 8, 2012: Whoah. It seems that our users have gone incredibly silent! D: But anyways, if you are still here, say hello to our new admin Wyvern Rex! If you don't know, he is also an Admin of the Inheritance Wiki and will be helping us out with templating and formatting. Still, we are really short on users! Tell everybody that this wiki exists! Alittlebitofcyanide 08:51, April 8, 2012 (UTC)
March 10, 2012: I love how the Wiki is coming together! Keep up the great work! Oh and, for anyone who will ask, this is a fanon site, meaning that the things written here have to have some relation to the Inheritance Cycle. Original works which have the theme of dragons which have no relation whatsoever with the Inheritance Cycle may be removed. For those wanting to post original work (opposite of fanfiction), you can do so on Fiction Press . Save yourself, I'll hold them back! 10:41, March 10, 2012 (UTC)
March 7th, 2012: Hey everyone! This wikia is growing a bit, but we need more members! Help us make our wikia known and tell you friends! When we have more people here, things become a lot more fun!

Jazzy

22:48, March 7, 2012 (UTC)
CONGRATULATIONS JAZZY! WELCOME TO THE ADMIN WORLD ♠♣♥♦ 11:42, March 3, 2012 (UTC)
January 5, 2012: Woah. Edited the Wiki a bit. Looks a lot more spiffy than it used to. XD Oh well, I need to get some users upppp Alittlebitofcyanide 03:48, January 5, 2012 (UTC)
December 27, 2011: This wiki is created. I've already posted the rules up there and I'll try to get some users to join through the Inheriwiki. Alittlebitofcyanide 02:51, January 5, 2012 (UTC)